ACRC Processing Laboratory
Materials Processing: The lab houses two Inductotherm 35 kW induction furnaces, one capable of 25 kg of iron and copper alloys as well as 30 kg of aluminum. Wood CNC and carbon fiber reinforced plastic 3D printer for generation of custom patterns for sand molds. Permanent molds for generating tensile testing samples according to ASTM B108/B108M and custom permanent molds for evaluation of castability of aluminum alloys. ARCAST Arc200 vacuum arc melting unit capable of melting high melting point metals in vacuum with electromagnetic stirring for uniform elemental distribution in alloy. Custom copper molds in various shapes with and without water cooling for casting in vacuum. Additional inert gas atomization chamber for custom alloy small batch powder production. The lab is also equipped with a Nabertherm convection oven with a maximum operating temperature of 450°C and an envelope of 560 x 750 x 600 mm (WxDxH), a Nabertherm convection furnace with a maximum operating temperature of 850°C and an envelope 350 x 500 x 350 mm (WxDxH), and two Thermolyne 30400 muffle furnaces with a maximum operating temperature of 1080°C and an envelope of 360 x 360 x 360 mm (WxDxH) available for heat treatments.
Chemical Analysis: SPECTRO ARCOS inductively coupled plasma optical emission spectroscopy (ICP-OES) for highly accurate elemental analysis of metals, chemicals, petrochemicals, and other materials. SPECTROLAB S arc spark OES for high accurate rapid metal composition analysis. SPECTRO XEPOS energy dispersive X-ray fluorescence (ED-XRF) spectrometer for analysis of major, minor, and trace element concentrations in bulk and powder samples. SPECTRO xSORT handheld ED-XRF for elemental analysis of large parts.
Microstructural Characterization: The lab houses a full Buehler metallography suite including a IsoMet High Speed Pro precision cutter, a SimpliMet 4000 hot mounting machine, a SimpliVac cold mounting station, a AutoMet 250 automatic polisher, a VibroMet 2 vibratory polisher, and a ElectroMet 4 electro-polisher for sample preparation. An Olympus GX53 Inverted Metallurgical Microscope with the OLYMPUS Stream image analysis software for metallographic imaging. Additionally, there is also an Olympus LEXT™ OLS5100 3D Laser Scanning Microscope for high resolution 3D surface topology characterization. The lab will also house a VJ Technologies Veda CT 450 a x-ray computed tomography(CT) unit equipped with a 450 kV power source for macroCT imageing and a 250 kV power source for microCT imageing.
Mechanical Testing: VH3300 automatic Vickers/Knoop hardness tester complete with the DiaMet operation software for hardness testing. Further mechanical characterization of materials can be done in the Instron Model 5985 capable of loads up to 250 kN in tension and compression.
Software: The lab has a 16 core software license for Magmasoft which is a casting simulation software capable of predicting fluid flow and solidification behavior of alloys during casting. The sand, permanent mold, low-pressure, and high-pressure die casting modules are available with access to the material libraries for steel, copper, zinc, magnesium, and aluminum alloys. Additionally, PIs has access to a user for ThermoCalc® and Dictra® software, including
ThermoCalc, diffusion module, precipitation module, and aluminum alloy and high entropy alloy databases.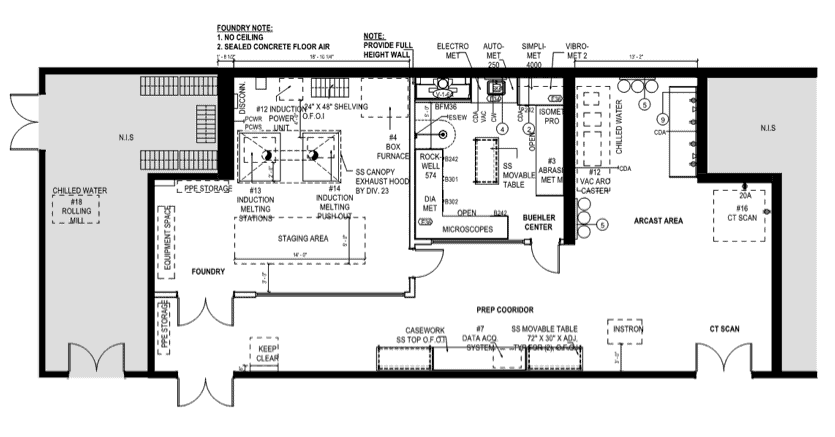 Campus-wide Facilities
Institute for Design and Manufacturing Innovation (IDMI)
IDMI is a research institute within the Samueli School of Engineering with a goal to promote excellence in advanced manufacturing through strategic integration of research, education and community outreach. IDMI maintains state-of-the-art manufacturing facilities, with equipment available to UCI researchers, students, industrial partners, and members of the community. IDMI's two distinct facilities are (1) RapidTech and (2) FABWorks. IDMI has a Machine Shop that supports researchers, students, and course requirements.
RapidTech
RapidTech is IDMI's high-end facility, featuring some of the most advanced manufacturing equipment on the market, with a clear emphasis on additive manufacturing (3D printing) technologies. RapidTech owns and operates high-end equipment for nearly every additive manufacturing process, from Material Extrusion, Vat Polymerization, Binder Jetting, Material Jetting and Powder Bed Fusion (metals and polymers). Laser cutters, 3-D scanners and subtractive equipment are also available. RapidTech offers a variety of educational and training modules to students and industrial clients, and provides state-of­the-art multimaterial, multiscale processes to support research and development at all levels. The equipment at RapidTech is primarily used for research, graduate education, advanced professional training and industrial services but also to support undergrad classes and activities.
Key equipment:
Stratasys Fortus 450MC
Stratasys Objet260 Connex3
SLM 125HL
Autodesk Ember
Trotec Speedy 360
GOM ATOS Core 200
ShopSabre 4860
 Saratech Suite
Within the RapidTech facility lies the Saratech Suite. In a new partnership with Saratech, an award-winning provider of engineering and manufacturing solutions including Product Lifecycle Management (PLM) software, engineering and consulting services, and manufacturing hardware headquartered in Mission Viejo, CA, IDMI has broadened its additive manufacturing portfolio to include HP, Markforged, and BigRep. The partnership has brought a production capable HP Jet Fusion 4200 3D printer and depowdering station capable of high-speed polyamide prints, access to the continuous fiber reinforced polymer parts capable Markforged Mark Two and X7 that bring carbon fiber, Kevlar, and fiberglass to the mix, as well as the Bigrep Studio for large platform, open material extruded builds. In addition, IDMI has access to the atomic diffusion additive manufacturing Markforged MetalX that uses polymer bound metal powders along with wash and sintering stages to create high detail metal components. 
Key equipment:
HP 4200 Jet Fusion Printer
Markforged X7
Markforged Mark Two
Markforged MetalX
Bigrep Studio
FABWorks
The mission of FABWorks is to reinvent the way people create and innovate, offering a space where students, faculty and the community can design and fabricate almost anything. Among FABWorks' prosumer grade (above consumer grade) equipment are 3D printers and laser scanners, computer-controlled milling machines, laser cutters, electronics development and diagnostics equipment, industrial sewing machines and more. The FABWorks space offers expanded opportunities for those interested in hands-on, advanced-manufacturing experience and creates a hub where creativity can propel next-generation technologies. FABWorks offers training to member of UCI and the community as a whole.
Key equipment:
LulzBot Taz 6
Ultimaker 3
Formlabs Form2
Epilog Fusion M2
Epilog Mini
ShopSabre 3636
NextEngine 3D Scanner
Samueli School of Engineering Machine and Weld Shops
The IDMI also oversees the Machine Shop and Weld Shops, which supports researchers, student clubs, and course requirements. Our highly skilled shop managers and instructors, Tucker Parris and Tyler Schuldt, are available to provide technical support to faculty and students working in the shops. Mills, lathes, and welding equipment are available for use. Machines are available on a walk-in basis (excluding in-session class instruction) or on a reserve request.  The Machine Shop is generally stocked with tools in imperial units including various taps of generic sizes.
Irvine Materials Research Institute (IMRI)
IMRI operates university-wide shared user facilities that offer a wide range of materials characterization instrumentation and techniques including Transmission Electron Microscopes (TEM); Scanning Electron Microscopes-Focused Ion Beam systems (SEM-FIB); X-ray Diffractometers (XRD); surface analysis; 3D imaging and analysis; and thermal, elemental, mechanical, physical and rheological property measurements, together with comprehensive specimen preparation facilities. IMRI provides training and staff support. On-site users reserve instrument time on the IMRI website. IMRI staff includes seven Ph.D. level scientists who oversee all activities within the IMRI facility.
Within IMRI, there are three user facilities: 1) Center for Transmission Electron Microscopy (CTEM); 2) Laboratory for Electron and X-ray Instrumentation (LEXI); and 3) Thermal, Elemental, Mechanical, Physical and Rheological (TEMPR) facility. The capabilities and unique characteristics of the instruments within these facilities are summarized as follows:
Center for Transmission Electron Microscopy (CTEM)
Nion aberration-corrected UltraSTEM 200 with a monochromated EELS system
     (HERMES 200)
JEOL double spherical aberration-corrected JEM-ARM300CF "Grand ARM"
JEOL JEM-2100F Cryo-TEM
JEOL JEM-2800 S/TEM
TESCAN GAIA-3 XMH integrated focused ion beam-FESEM
Laboratory for Electron and X-ray Instrumentation (LEXI)
Laboratory for Electron and X-ray Instrumentation (LEXI) was established in 2009. LEXI houses 6 new major instruments together with a full set of sample preparation equipment and provides strong capabilities for sub-nanometer surface imaging, cross-section imaging, environmental SEM imaging, electron back-scattering imaging and diffraction, composition analysis, grain orientation analysis, electron beam and ion beam lithography, nano-scale electrical probing, crystal structure determination, texture study, phase transformation study, MEMS in-plane and out-plane vibration study and various metal depositions.
The FEI Magellan 400 SEM
FEI Quanta 3D FEG dual-beam SEM/FIB
Rigaku Ultima III XRD
The Polytech MSA-500 Micro System Analyzer
Angstrom Engineering EvoVac glovebox-integrated thermal and electron beam evaporator
3) Thermal, Elemental, Mechanical, Physical and Rheological (TEMPR) Facility
The newly established TEMPR Facility (mid-2019) is a world-class shared laboratory for the physical property characterization and elemental analysis of bulk and thin-film biological, soft, and hard materials. The facility houses a suite of state-of-the-art characterization instruments capable of measuring materials thermal, elemental, mechanical, physical, and rheological properties.