Advanced Casting Research Center
The Advanced Casting Research Center is one of the largest industry-university consortia in North America dedicated to collaborative research in metal processing and manufacturing. Our focus is metal casting and digital manufacturing. We bring fundamental understanding to existing processes, develop new methods, new alloys, and address management-technology interface issues with our industrial partners. ACRC serves the global foundry industry as its educational and research home.
Launching New ACRC Foundry and Labs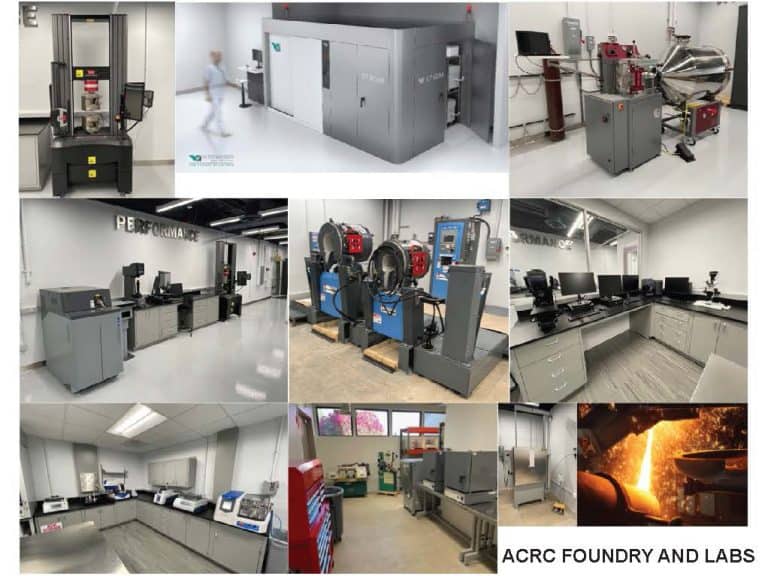 ACRC's foundry and laboratories were installed at UCI in late 2021. It includes:
a modern foundry that houses two Inductotherm 35 kW induction furnaces for the production of alloys
state-of-the-art vacuum melting system with capabilities for atomization (Arcast 200) with various geometry molds to process refractory metals
a complete Spectro lab for chemical analysis
a Buehler Center of Excellence (for metallography)
an Olympus Microscopy suite, including a laser confocal microscope
A SLM-125 laser powder bed fusion (LPBF) system with Yb fiber laser (400 W) for AM manufacturing of material components.
A VJ Technologies Veda CT 450 an x-ray computed tomography (CT) is being installed, which will be equipped with a 450 kV power source for macroCT imaging and a 250 kV power source for microCT imaging.
The CT is equipped with a Deben CT 5000, which allows one to test samples under loading and interrogating and imaging with the CT under load.

The Deben system has a 5KN testing stage for X-Ray CT applications.

For mechanical testing, we have in place an MTS Nano Indenter XP, and Instron Model 8801 and Model 5985 testers.
A Buehler 2004 microhardness tester and an Instron E3000 microtester allows the execution of mechanical testing of miniature specimens.
A digital image correlation (DIC) system (model: VIC-3D v7, manufacturer: Correlated Solutions, Inc.) is also available to measure strain and subsequent evaluation of corresponding stress.
ACRC researchers and members also have access to other UCI technology. The university is also the home of the Irvine Materials Research Institute (IMRI) which is one of the nation's top microscopy and characterization facilities. UCI has installed an inert gas atomization facility which can be used to synthesize alloyed powders for Additive Manufacturing (AM).
IDMI (Institute for Design and Manufacturing Innovation) at UCI houses several pieces of AM equipment:
A Laser Engineered Net-Shaping (LENS®) unit, with 1 kW Yb fiber laser, equipped with thermal imaging subsystem for temperature measurements and high-speed photography subsystem for monitoring dynamic behavior of melt pool.

A SLM-125 laser powder bed fusion (LPBF) system with Yb fiber laser (400 W) for AM manufacturing of material components.
Research Project Highlight – Big Data
We are working in an era where manufacturing is undergoing significant changes. Specifically, the nexus of Artificial Intelligence (AI) and metal processing which has opened a vista of opportunities that could not have been realized previously.  Researchers at ACRC and at UCI's Hub for manufacturing – Industry 4.2TM have been pursuing a set of ambitious projects in this domain.  We feature, specifically, a project addressing data (or lack of data).
To use AI and machine learning for optimizing manufacturing processes, the first step is to get the data right. The amount and quality of the data collected is key to good data driven modelling of these processes. Thus, it is important to keep track of the quality details when collecting and aggregating the siloed datasets. Data quality management plans are at the core of Industry 4.2TM and smart manufacturing in the digital transformation age. Data management plans comprise the entire lifecycle of the data from collecting data, integrating the different sources into a coherent format, data normalization and storage to analyzing the data for instant plant action as well as offline.  Data cleansing and pre-processing are pre-requisite to transform the raw data collected into knowledge via such a lifecycle. Due to the diversity in the types of data collected at the foundry, for example, data in different formats, at different levels of granularity and time periods leads to datasets that are siloed, noisy and incomplete in nature.
The focus of our work is on the application of deep learning methods to treat such data quality challenges and to develop data-driven models and obtain insights into the manufacturing processes. This work addresses different dimensions of data quality which are essential for materials processing and manufacturing companies interested in machine learning (as featured in this figure). We provide solutions for these which can be easily incorporated into the existing frameworks of the foundry.  Moreover, the models developed enable the manufacturing companies to do machine learning for applications, such as identifying primary drivers of defect formation, anomaly detection, part quality prediction and predictive maintenance, even when a gold standard data management plan is not readily available.
Click here to learn more about this project and our other groundbreaking research.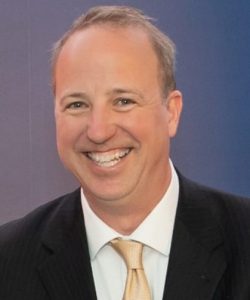 WHAT MEMBERS SAY ABOUT ACRC
"I have personally been involved in the ACRC consortium for years and I enjoy the collaboration between the members. Among the attributes that differentiate ACRC from other academic research programs; a great deal of technical expertise from both the industrial membership and the facility, research into real world problems, and equipping the next generation of metal casting engineers with practical knowledge. For Magna International the demands to provide cost effective light weighting solutions to our customers has never been greater. The ACRC research programs provide a great deal of value toward satisfying the increasing market demands of today and tomorrow." 
Randy Beals
Magna International
Our Next Meeting
June 2-3, 2022, Irvine, CA
Join us for our next meeting, which promises to be an engaging, virtual exchange.  Open to all members and registered guests. Interested but not a member? Please contact Diran Apelian dapelian@uci.edu